Second Language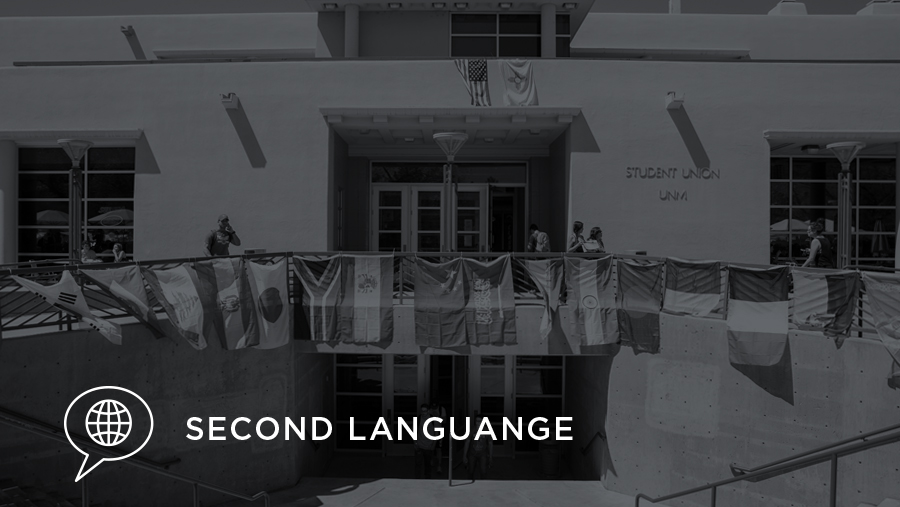 3 credit hours
A second language chosen from regular language offerings in UNM departments including (but not limited to) Foreign Languages and Literatures, Linguistics, and Spanish and Portuguese. Students will follow departmental guidelines on placement in the appropriate language course level. Languages regularly offered at UNM include (but are not limited to): American Sign Language, Arabic, Chinese, French, German, Classical Greek, English (for qualified international students who learned English as a second language), Italian, Japanese, Latin, Portuguese, Navajo, Spanish, and Swahili.
To survive the Borderlands
you must live sin fronteras
be a crossroads.
Explore the relationship between languages and cultural identities
Explain and understand ideas through speaking, listening, reading and writing in a second language
Design strategies for communicating across borders
Identify values, terms, and ideas that are important to linguistic communities
 Only entry-level language classes are listed here, but another language class may satisfy this requirement based on placement
Courses
| Course Number | Name | Description |
| --- | --- | --- |
| ARBC 1130 | Arabic I | |
| CHIN 1130 | Mandarin Chinese I Intensive | |
| FREN 1110 | French I | |
| GREK 1110 | Greek I and II | |
| GRMN 1110 | German I | |
| ITAL 1130 | Italian I | |
| JAPN 1130 | Japanese Intensive I | |
| LATN 1110 | Latin I & II | |
| NAVA 1110 | Navajo I | |
| PORT 1110 | Portuguese I | |
| RUSS 1110 | Russian I | |
| SIGN 2125 | Introduction to Signed Language | |
| SIGN 2210 | American Sign Language I | |
| SPAN 1110 | Spanish I | |
| SPAN 1210 | Spanish for Heritage Learners I | |
| SWAH 101 | Swahili I | |